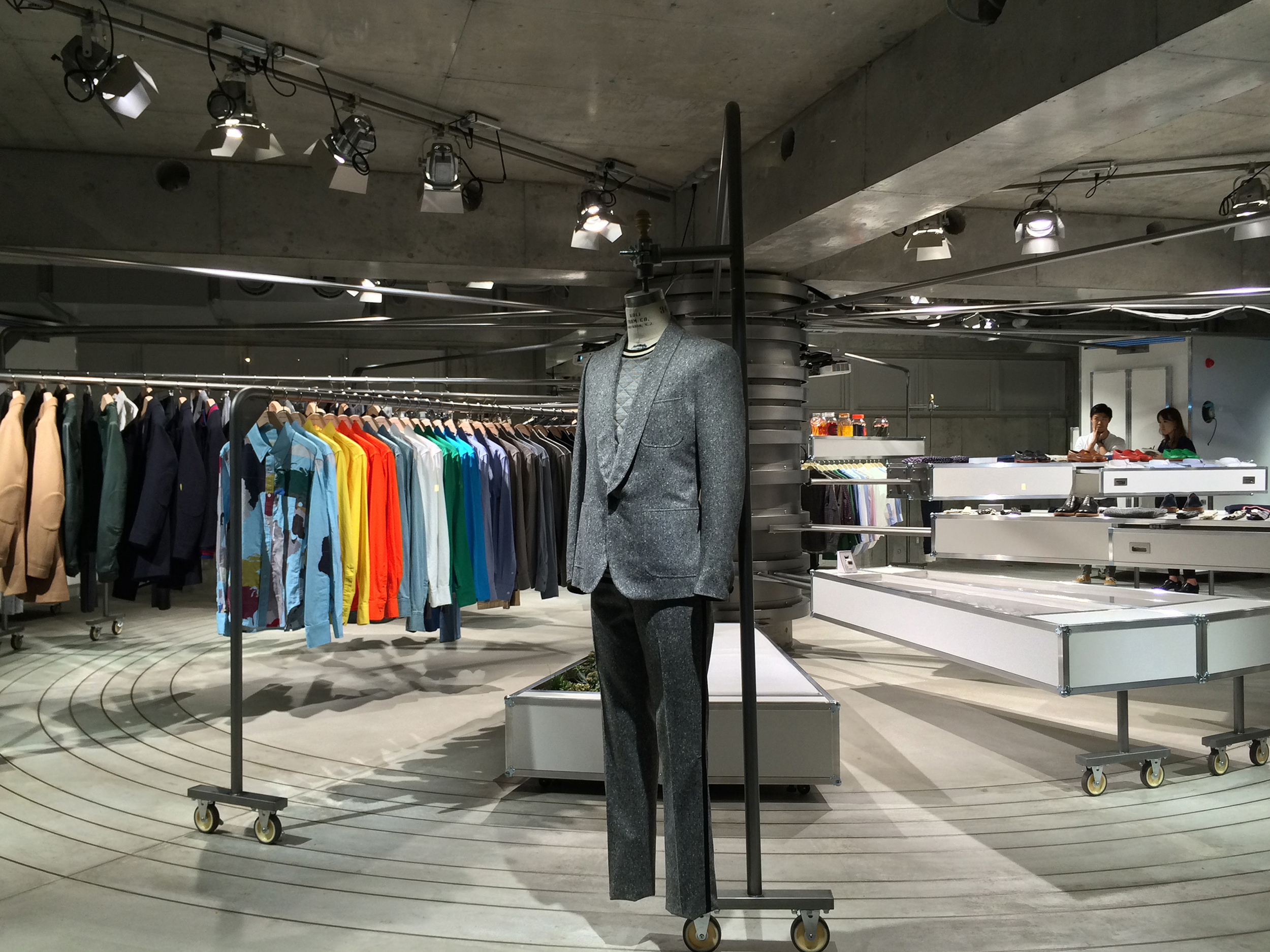 BAND OF OUTSIDERS TOKYO
---
Client: Band of Outsiders/Scott Sternberg
Type: Fashion Retail / Showroom
Location: Sendagaya-Tokyo, Japan
Size: 1,800 SF/170 m2
Design: 2013
Project Architect: Aaron Mark
Local Architect: Geograph (Koki Hashimoto)
General Contractor/Fabricator: D.Brain Co, LTD
Photography: Kozo Takayama

Band of Outsiders commissioned LOT-EK to collaborate on a design concept, to be implemented in each of the brand's new retail shops. The first retail project was just completed in Tokyo, soon to be followed by the global flagship store in New York City's Soho. The Tokyo store represents an important milestone in the development of Band of Outsiders' retail identity — establishing a spatial, experiential and aesthetic scheme which can be adapted globally.
The Tokyo store, located in the fashionable Sendagaya neighborhood, was inspired by the brand's core style — modern, fresh and playful, with a cool and easy Californian vibe. The new 3-story building houses the store on the ground floor, along with showroom and offices on the upper floors. The building is wrapped by a mesh façade which serves a dual purpose: providing a minimal unifying "skin" for the entire building, while also serving as a billboard, allowing the designer to display rotating imagery inspired by that season's collection.
The store's interior was designed to evoke our idea of a fashion/retail laboratory – raw steel and concrete finishes are balanced with elegant white-laminated wood cases. The primary plan is built upon a large existing structural column. Rather than treating the column as purely an obstruction, we were inspired by the idea of a carousel, in which all pieces work in concert. A massive steel mechanism – nicknamed "the monster" – was customized and fabricated to fit around the column, and serves as the anchor for all primary retail functions (and allows client to fully maximize the interior footprint). Like a giant Swiss Army Knife, the monster's 28 steel arms house 2 fitting rooms, a checkout register, 8 dress forms, 10 display cases, 6 hanging displays and a projector. The fitting rooms provided an opportunity to create special moments within the shop, as desired by the client. Constructed from musician road cases (as are the display cases), the rooms serve as portals into the brand's Los Angeles and cinematic roots: each are canvassed with murals – one of a California beach, the other of planet Tatooine from Star Wars - and include sound effects to complement the visuals.

---