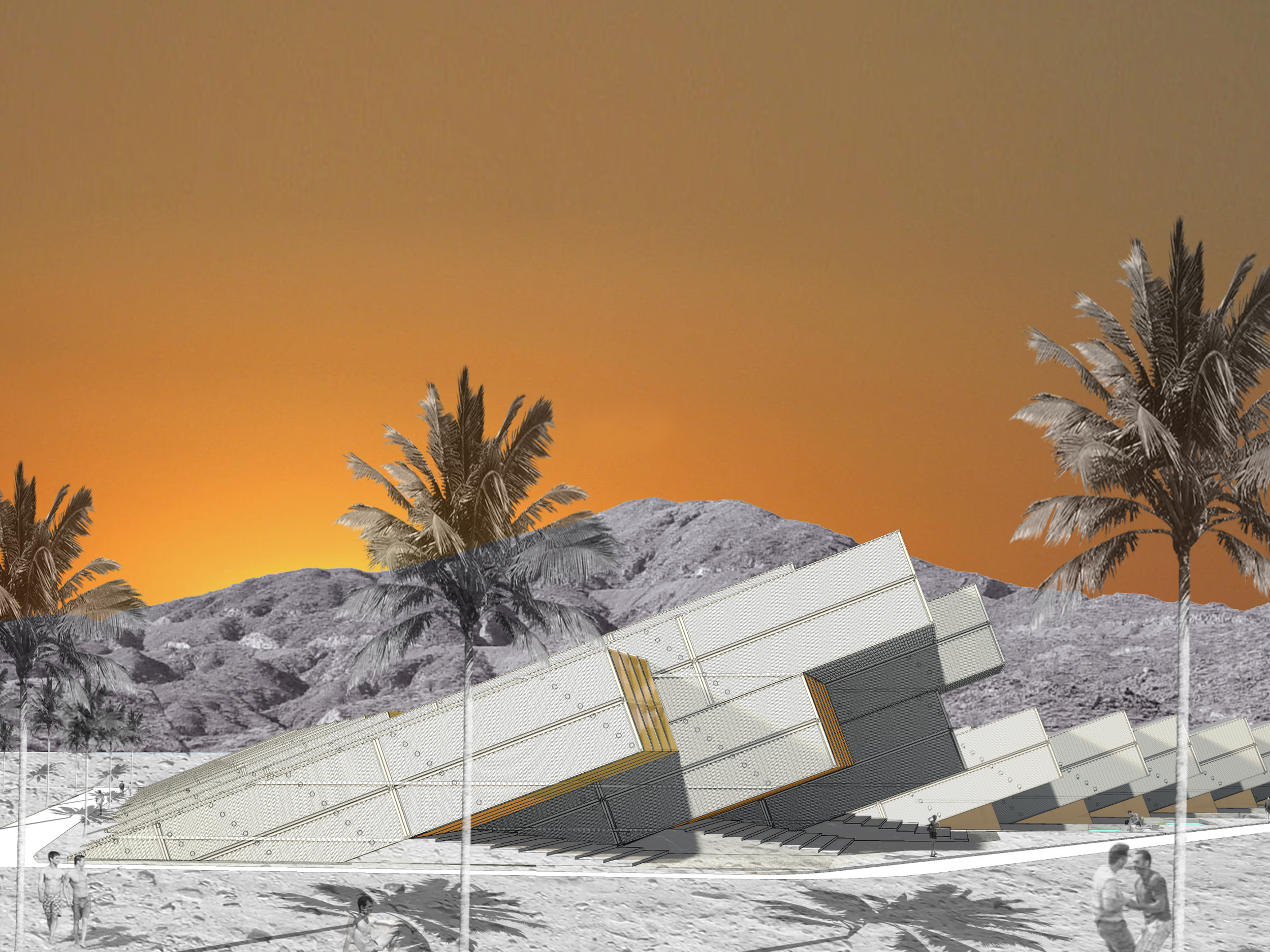 BOOM COMMUNITY
---
Comission: KFT Capital LLC
Type: Single-Family Residences and Community Center
Location: Palm Spring, CA
Size: 200,000 SF lot (98,000 SF Residential + 33,000 SF Healing/Meditation Center)
Design: 2010
Project Architect: Virginie Stolz
Structure: Silman

Our concept for a residential community is inspired by the extraordinarily sculptural presence of slanted rock formations in the American desert. We have interpreted this slanted geometry to generate a massing that organically emerges out of the desert soil: a quasi-natural environment characterized by sculptural volumes and striking shadow patterns. Each home contains the garage at grade, a sunken living room and upper floor bedrooms. The large living room is an open, loft-like area, with double-height ceiling. An interior stair leads to upper bedrooms, an open kitchen and a vast glass wall that allows visual and physical continuity with the patio/pool. The upper bedroom suites are also loft-like, with high slanted ceilings and large windows providing sweeping mountain views. The private patio is visually connected to the neighboring homes. Its slightly slanted/sunken floor provides discrete separation from the surrounding environment. We imagine this patio to be a green and shaded oasis, a lush respite from the hot, dry desert.
The Boom Community Center is a facility dedicated to a range of social activities for community residents. It will contain an alternative spa, for the provision of healing practices such as Ayurvedic medicine, acupuncture, massages, therapeutic mud baths, etc. In addition, the center will provide a peaceful mind/body studio for residents interested in studying and practicing activities like meditation and yoga. Similarly to the houses, the healing center is centered on the same motif of slanted volumes on a slightly larger scale. These volumes create a sculptural edge on the southern end of the central plaza, and at the same time act as a privacy filter for the residential area. The interior of the healing center is characterized by open spaces with high ceilings and large window/skylights with views towards the sky and the mountains. The skin of the volume is also perforated with a pattern of holes that regulate soft light penetration from sides, top and bottom throughout the building.

---