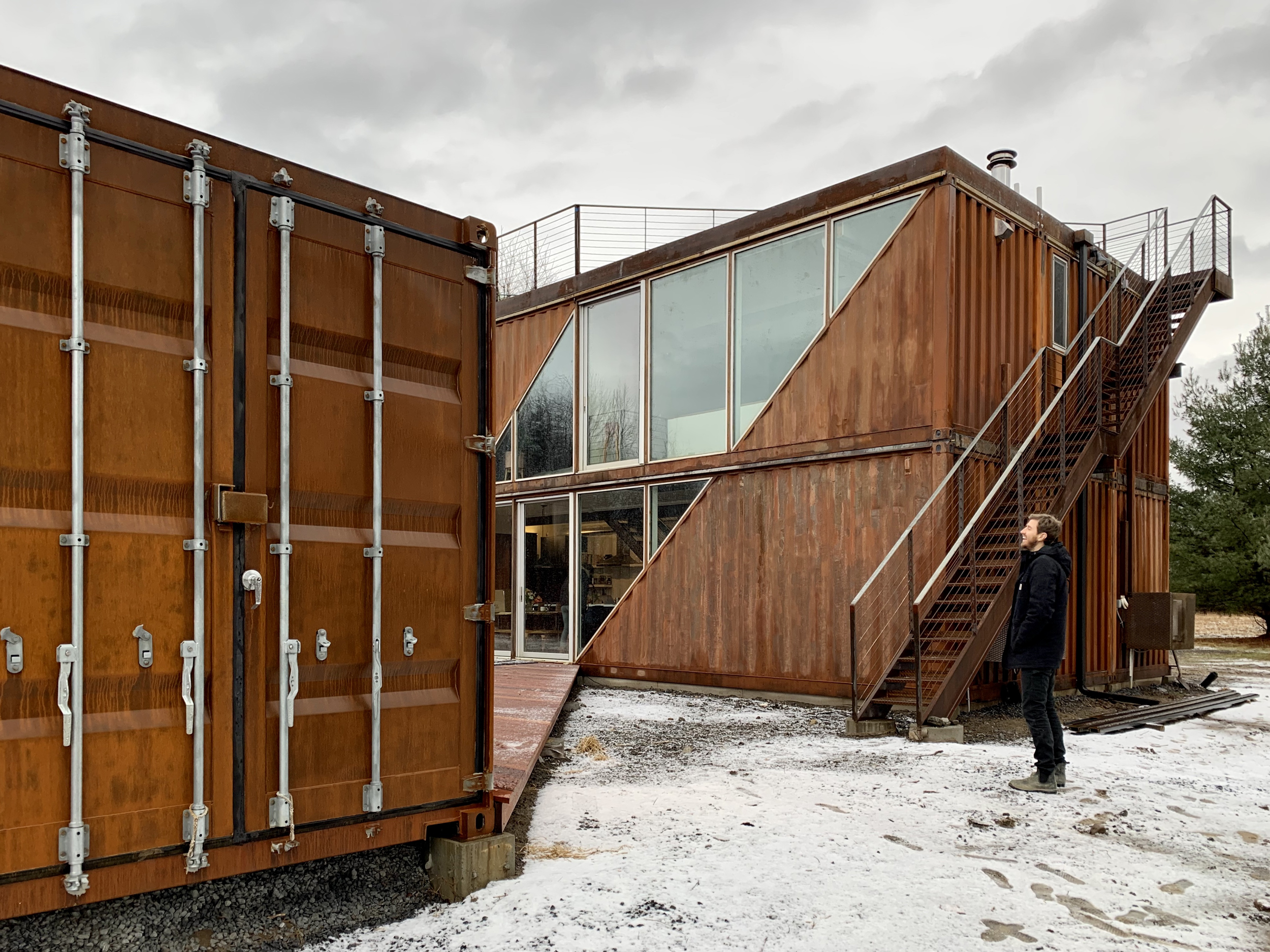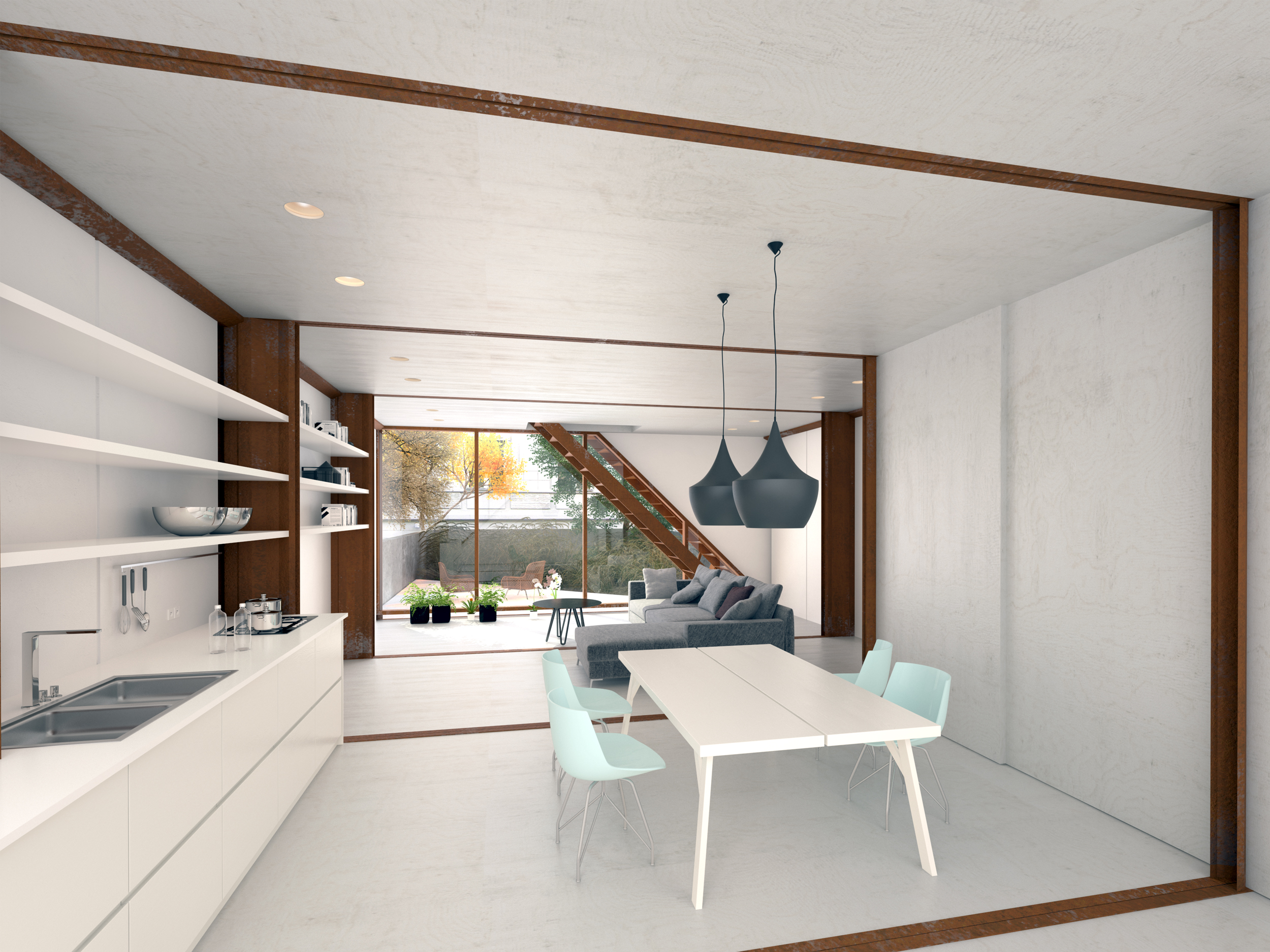 c-Home
---
Type: Prefabricated residential
Location: Anywhere
Size: 640 sqft to 1,920 sqft
Design: 2018

* SMART: the "upcycling" of shipping containers for construction is a highly sustainable practice, given the huge number of containers that lay unused all over our planet. This is sustainability starting at "point zero", without compro­mising structural quality, or great design.
* BEAUTIFUL: this cutting-edge style of design exploits the structural and industrial beauty of shipping containers to create mod­ern, well-appointed home with open spaces full of light.
* STRONG: containers are made entirely of Cor-ten steel, and their assembly creates a stronger and more durable structure than typical construction methods.
* EFFICIENT: site preparation and off-site module fabrication is timed to occur simultane­ously, resulting in time and cost savings.
* EVERYWHERE: c-Home can be placed in any geographical region and can be enjoyed anywhere by anyone

c-Home_Country
Made with four 40' shipping containers (2 on ground and 2 on top) this introductory model is ideal as a permanent or vacation home. Its 40'x16' footprint provides 1,280 square feet of living space on two levels.
The open layout is conducive to contemporary living. The wide front and back glass walls provide beautiful light and wonderful views. The open living area is designed for easy configuration – allowing you to combine living, dining, work spaces according to your lifestyle and needs. Large decks seamlessly expand this living space into the back and front yards. The kitchen is both modern and distinctive, with quality fixtures, finishes and appliances, as well as a walk-in pantry with plenty of storage.
Separate stairways each lead to one of the two large bedroom suites (16'x20'), both with full bathrooms and walk-in closet. The comfortable size, along with private access, makes either room ideal to serve as a home office or guest room.
Other innovative green-building aspects - such as solar hot water heating and green roof technology - can be easily integrated as add-on options.

c-Home_Country is also available in single floor versions: from the minimal single-container (320sf0 with full bath and kitchenette, to the studio-cottage 640sf open space with kitchen, full bath, pantry, to one-bedroom cottage (960sf) with full bath, plus half bathroom, and kitchen, to the 2-bedroom cottage (1,280sf) with up to 2 full bathrooms and one half-bathroom

c-Home_City
The smallest c-Home_City is made with four 20' shipping containers (4 on ground and 4 on top) and it is equivalent to c-Home_Country in size an layout though turned 90 degrees to fit in urban infill lots. This townhouse's 20'x32' footprint provides 1,280 square feet of space on two levels - with same layout as c-Home 4x40: open living kitchen with 1/2 bath and pantry on 1st floor and 2 identical bedroom suites on 2nd floor connected to living room by 2 independent stairs.

c-Home_City is also available in larger models with 5x20' containers on 2, 3 or 4 levels for a total of 1,600sf (2 floors), 2,400sf (3 floors) and 3,200sf (4 floors).
The layout can be arranged vertically with living space on 1st floor and bedrooms on floors above or living/work space on 1st and second floors and bedrooms on floors above.

---