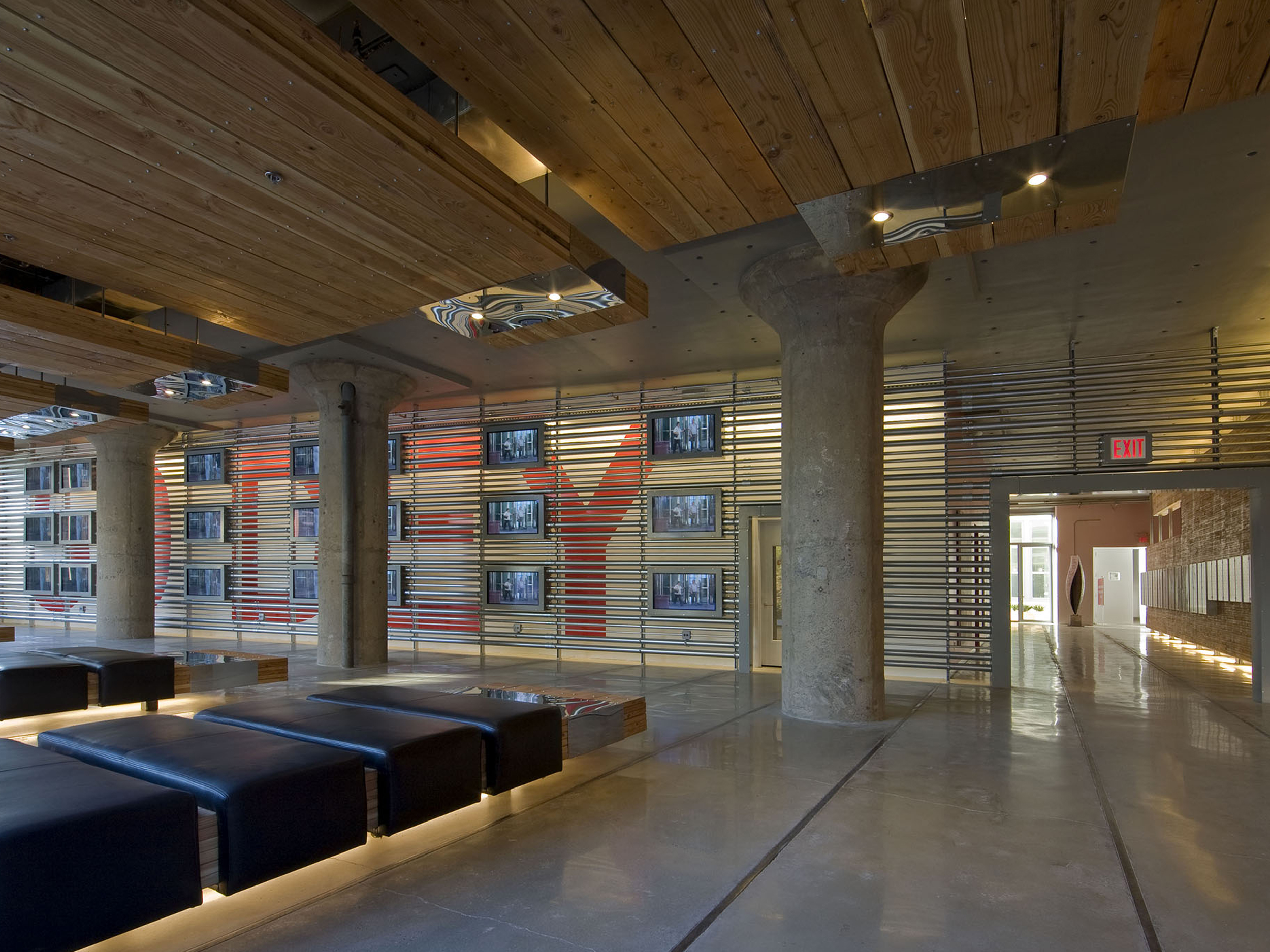 CANCO LOFT LOBBY
---
Client: Coalco
Type: Residential
Location: Jersey City, New Jersey
Size: 5,000 SF
Design: 2007
Photography: Andrea Brizzi & Nikolas Koenig

LOT-EK has designed the vast lobby of the CANCO loft building as a dynamic public space and a pulsating presence in the undergoing process of Jersey City's revitalization. To respond to the unique scale of the building – an extraordinary large industrial manufacturing structure converted to large residential lofts – the CANCO lobby is conceived as a place for social gathering, a sort of indoor "piazza", where residents and visitors relax and interact. An added function of contemporary art display allows the space to be livened by a video program that changes periodically, connecting the building to the local art community and animating the space with both culture and entertainment. The video program is shown on multiple LCD screens distributed along a video wall. The wall is conceived as an oversized electric circuit where large electric conduits form a freestanding interior facade that spans across the entire lobby as a sculptural object; the conduits support the monitors while screening and lighting the large environmental graphics of the building address painted red on the wall immediately behind. Large benches float along the glazed perimeter opposite to the video wall. The benches are stacks of wood planks lifted off the polished concrete floor and mirrored above to form a floating wood-planked drop ceiling. The benches are retrofitted with a system of modular leather cushions for seating and mirror-finished stainless surfaces for tabletops, while the drop ceiling houses the lights. Views of the outdoor garden and its landscaping, designed to create a seamless continuity with the geometry of the interior lobby space, are established from the benches through the continuous glazed outer wall. A long line of floor-to-ceiling stacked wood planks runs across the lobby space intersecting the video wall. It contains the reception desk at the front and the long line of protruding mailboxes along its rear.
The CANCO's lobby is a place for social interaction, a hybrid that redefines the relationship between indoor/outdoor and lobby/gallery to actively engage the fantastic size of the building with a space that is modern and compelling, alive and comfortable, while directly referencing the industrial past and history of the building.

---