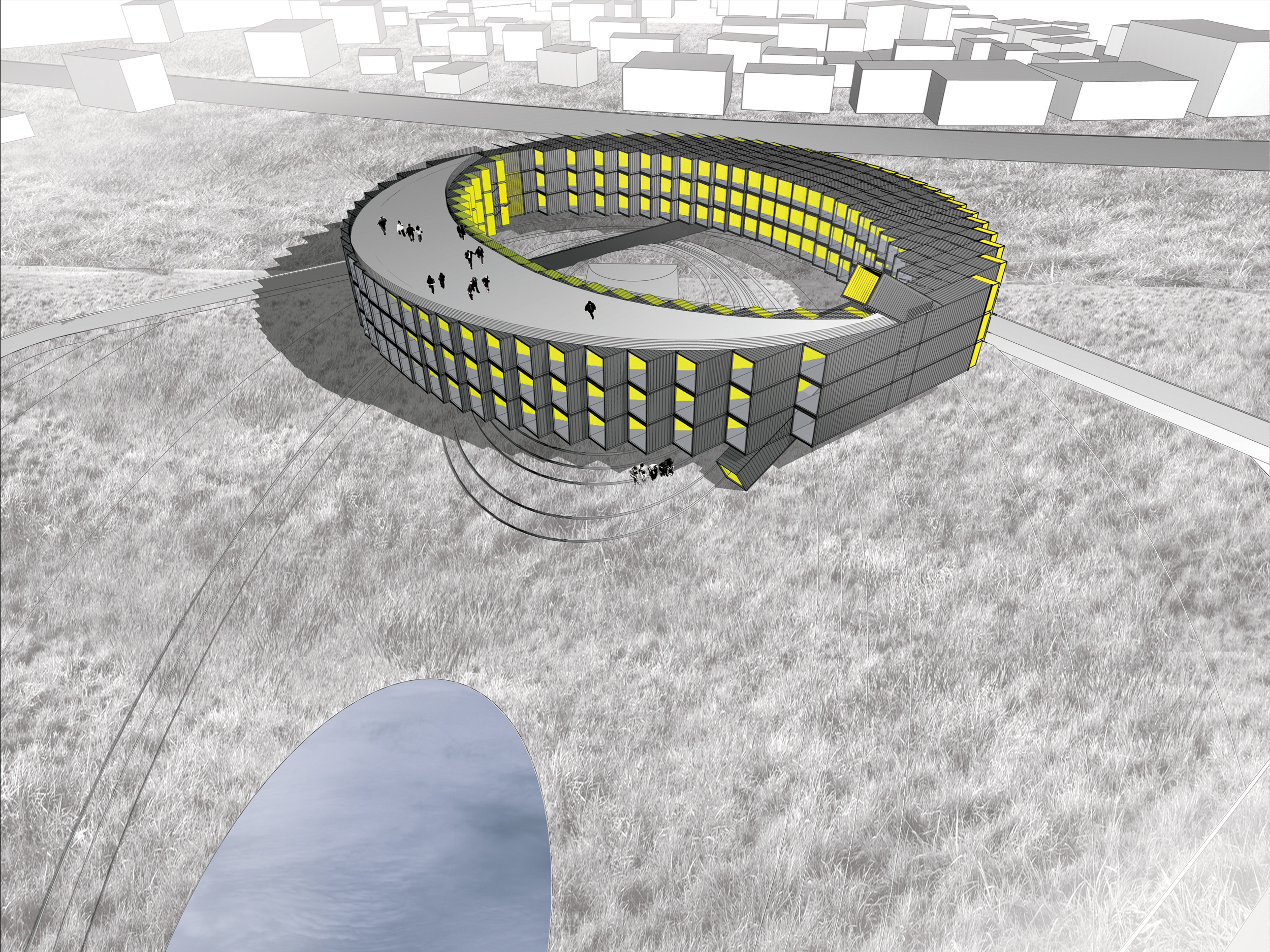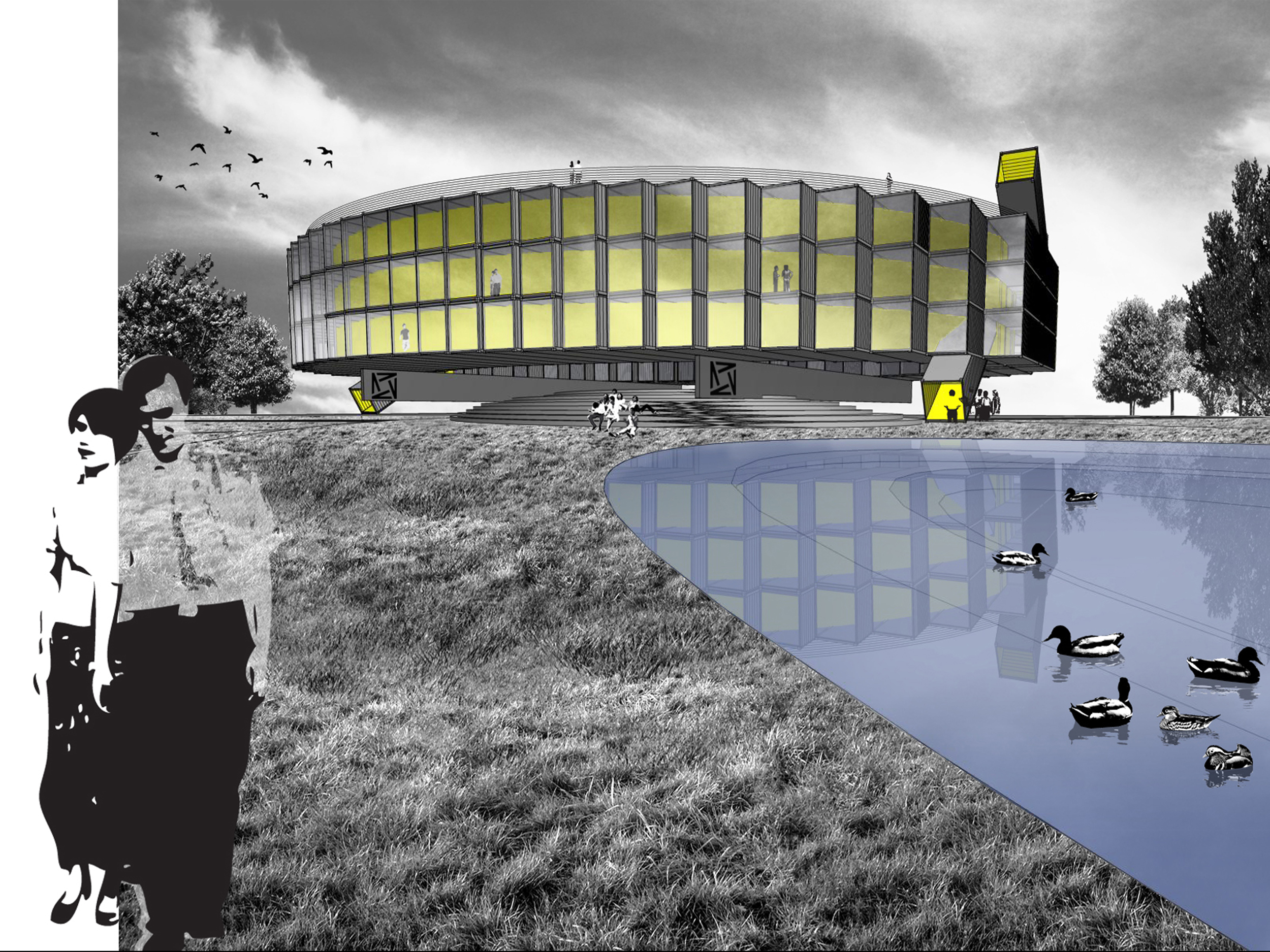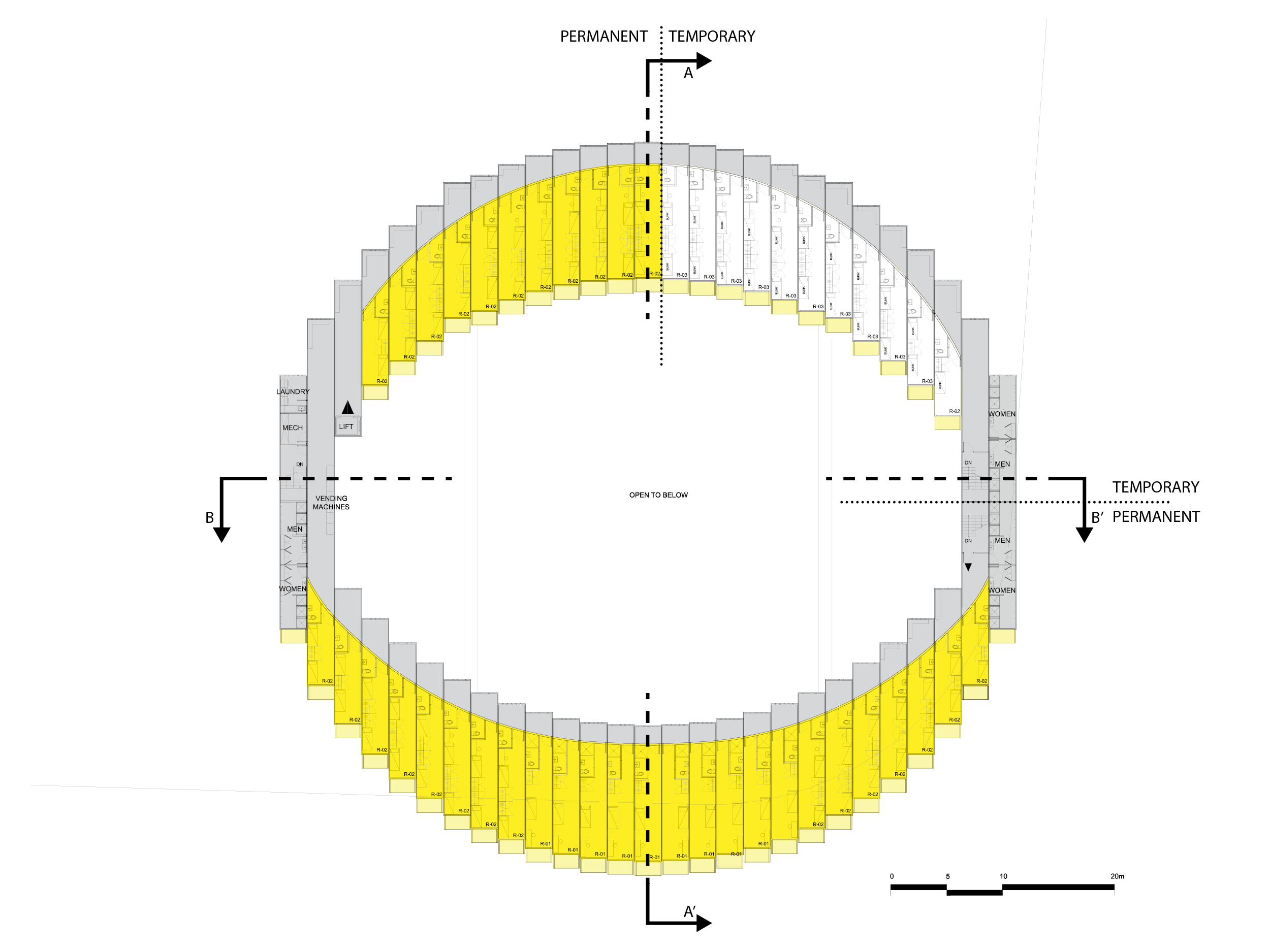 DONGGUAN DORMITORY COMPLEX
---
Client: Vanke Development Group
Type: Residential
Location: Dongguan, China
Size: 48,000 SF
Design: 2013

The design concept for the Dongguan Base Dormitory Complex is based on an elevated oval ring, which floats on 2 support beams. The volume hovers over the hilly landscape generating a sculptural form that distinguishes itself from the more utilitarian volumes of the surrounding buildings. The large ring creates a circular courtyard that is very porous and penetrable from all sides, making it totally integrated with the planned green areas that ring the building.
This vast exterior space becomes the visual and circulation core of the entire complex. It is occupied by a green hill topped by a full-sized basketball court that can also serve as a place for social events, such as performances, parties and other outdoor activities. The sides of the court are stepped, allowing for seating all around -- similar to a large reversed amphitheater for outdoor relaxation.
The ground-level entrance is provided either through an elevator, or via 2 separate sets of stairs, one for the permanent residences, and another for the temporary residential spaces. Enveloped in volumes that angle down from the floating ring, the stairs direct residents and visitors up to the main floor level. Bicycle parking is offered in the rear, and is protected by the permanent building's floating volume.
The dormitory is articulated with all public areas on the first, enclosed level, as two large semi-circular halls, which flank both sides of the courtyard. This contiguous and dynamic space is designed to provide indoor leisure activities for residents. Bright daylight can be enjoyed all along the south side of the building (indoor or outside on balconies), while views of the lake and the campus are visible along the north side through large picture windows. In an articulated continuum, guests will enjoy communal and individual activities such as eating, reading, working, studying, and relaxing, as well as indoor physical activities, such as weight training, yoga/tai-chi studios, table tennis.
The upper floors around the ring are designated as bedrooms – each of which face southward, with large glass walls and a terraced balcony, which offer small private outdoor spaces for each resident. The bedrooms are a combination of singles, with full baths, and doubles with ½ baths, as requested. Each residential floor will also contain large shared showers and laundry facilities. A public deck on the roof is accessed through a stairway, contained within its own volume.

---