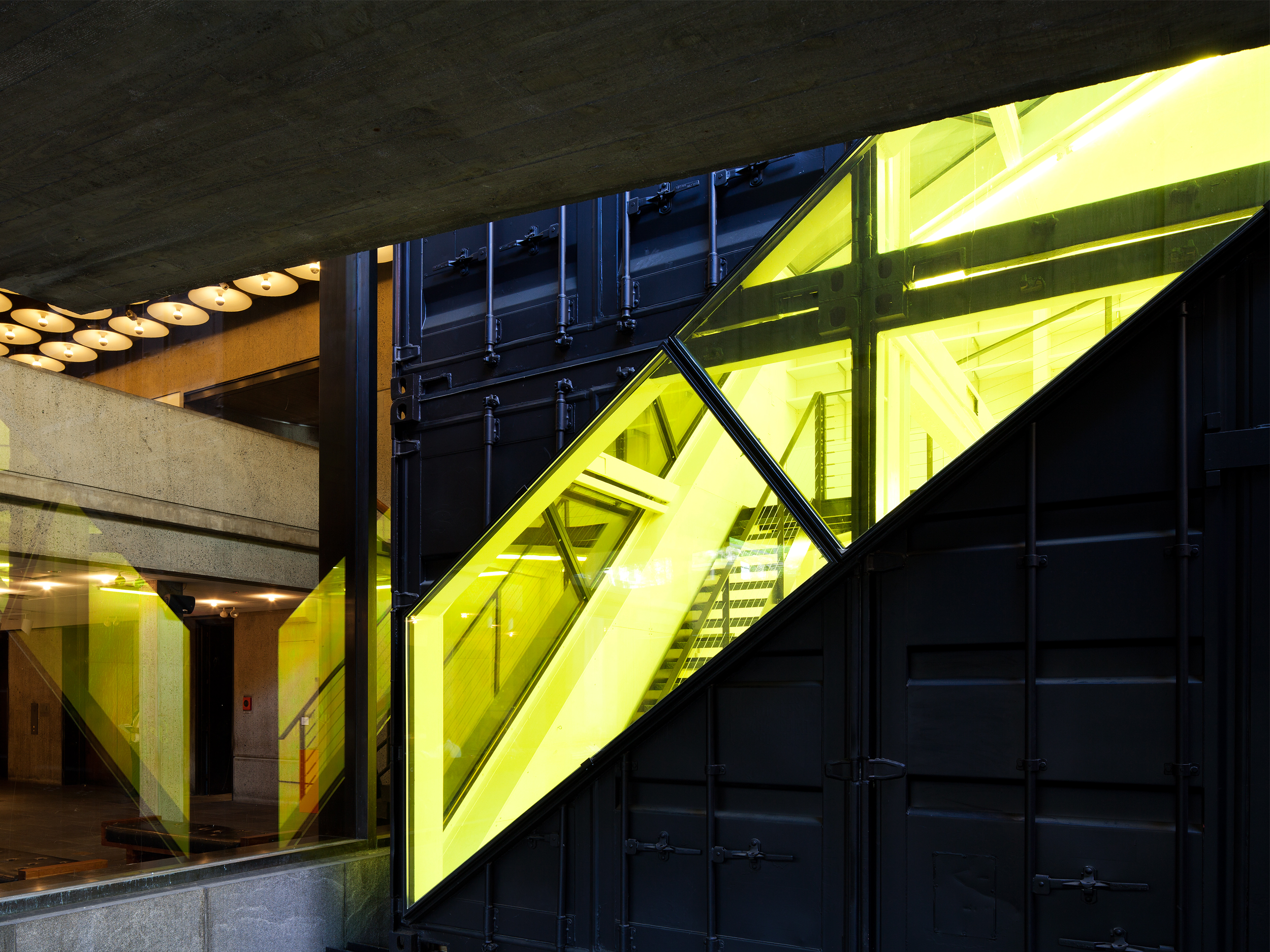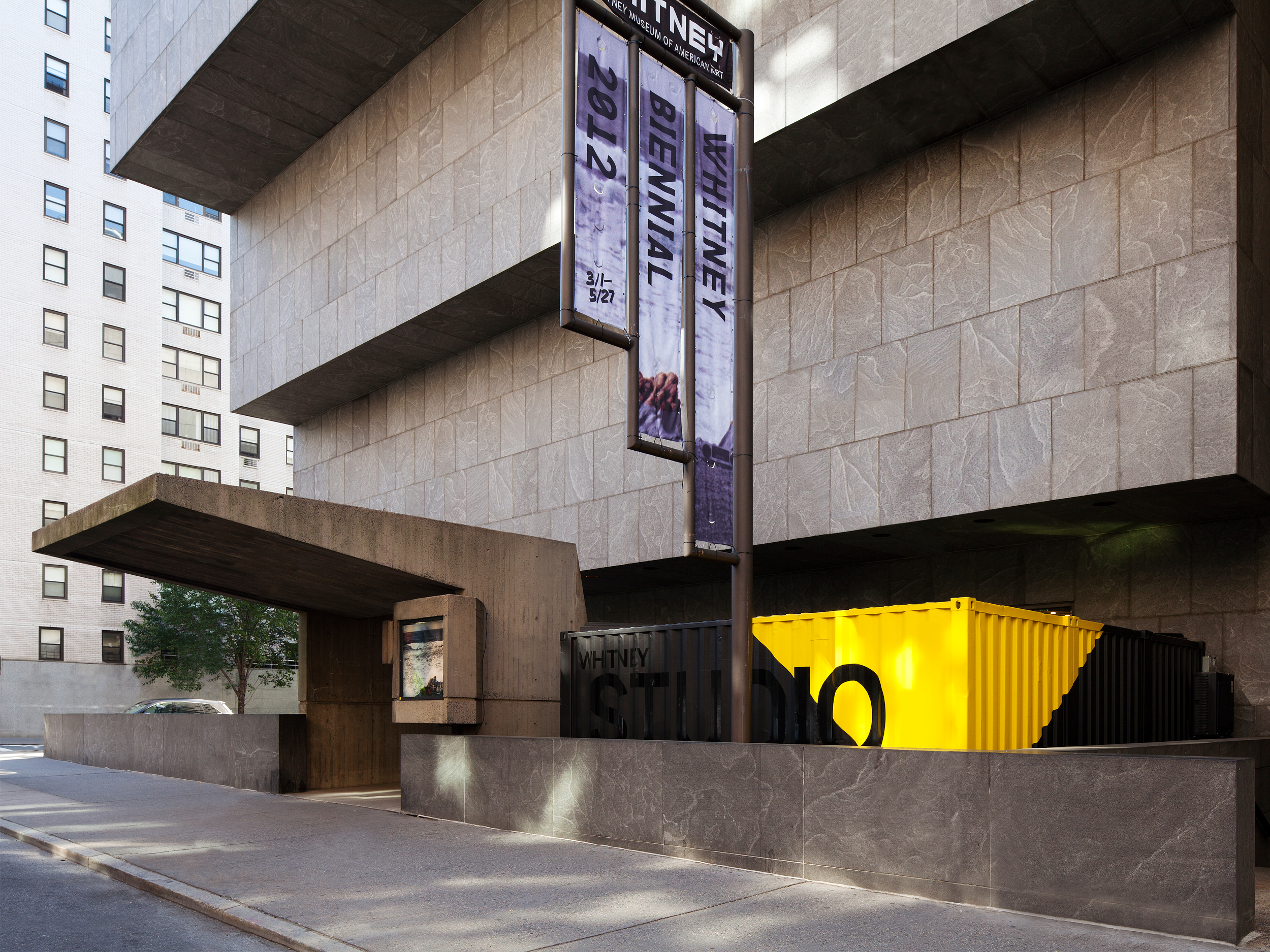 WHITNEY STUDIO
---
Client: The Whitney Museum of American Art
Type: Art Studio/Gallery
Location: New York City
Size: 720 SF
Design: 2012
Structure: Silman

The Whitney Studio installation is located in the Sculpture Court of the museum's Marcel Breuer building on Madison Avenue. The studio functions as a gallery for special exhibits and houses activities for the museum's education programs, including art-making classes for adults, teens, and families and informal lectures.
6 shipping containers are stacked on two levels to form a cube, to fit the smaller area of the Whitney's open moat, on the south side of the entry bridge. A diagonal and continuous band of fenestration runs along two sides and the roof to provide natural light and to offers a glimpse of activities to museum's visitors. Inside, the two levels are joined along a diagonal cut, with a double height space and a mezzanine for the production and display of art work

To see an animation of this project, please visit the LOT-EK page on

Vimeo.



---
SPACIOUS CO-WORKING HOTEL
---
Client: SPACIOUS
Type: Co-working hotel
Location: New York City
Size: 26,880 SF
Design: 2014
Project Architects: Marcelo Ertorteguy + Reza Zia
Structure: Silman

A newly conceived "co-working hotel" is deployed in New York City to then be implemented nationwide.
SPACIOUS articulates their co-working hotel concept on the following principles:
- Hotel guests earn a rebate for offering the room as a private office while they're out during the day
- Hideaway beds turn into office workstations, and lockable storage makes it comfortable, seamless, and safe.
- Coworking members get private offices on demand, plus in-house coffee, meals and hotel amenities.
- Anyone can drop-in and book spaces by the hour, or just hang out in the atrium lobby for refreshments, meetups, and free wifi.
A modular system is centered around an atrium that opens to the street with a large glazing and connects to urban life. At every floor stepping balconies look into the atrium and are used as shared work space. Private hotel rooms that turn into private offices open directly onto these balconies.

--- for more information about SPACIOUS click on logo

---
THEATRE FOR ONE
---
Client: Christine Jones
Type: Performing Arts
Size: 30 SF
Design: 2008
Exhibited: Princeton University, Julliard School of Music, NYIT, Times Square
Photography: Danny Bright

Conceived by theater set designer Christine Jones and developed in its architecture form by LOT-EK, Theater for One is a theater for one actor and one audience member. Inspired by small one-to-one spaces - such as the confessional or the sex peep-booth - Theater for One explores the intense emotion of live theater through the direct and intimate one-to-one interaction of actor and audience.
Theater for One uses the 'road-box' technology to configure a system where connected and detachable units form the theater black box, allowing for continuous transformability, interchangeability and expansion. The audience sitting area, referencing the iconography of baroque theaters and opera houses, is lined with red padded velvet and incorporates a peep-booth chair with stereo speakers and pay buttons. The actor unit is left raw to be transformed according to the play. Its background is a flexible plug-in system where different sets can be exchanged depending on the play requirements. A small plug-in box at the top holds lights and special effects, including rain and snow.

To see a video of this project in action, please visit us on

Vimeo.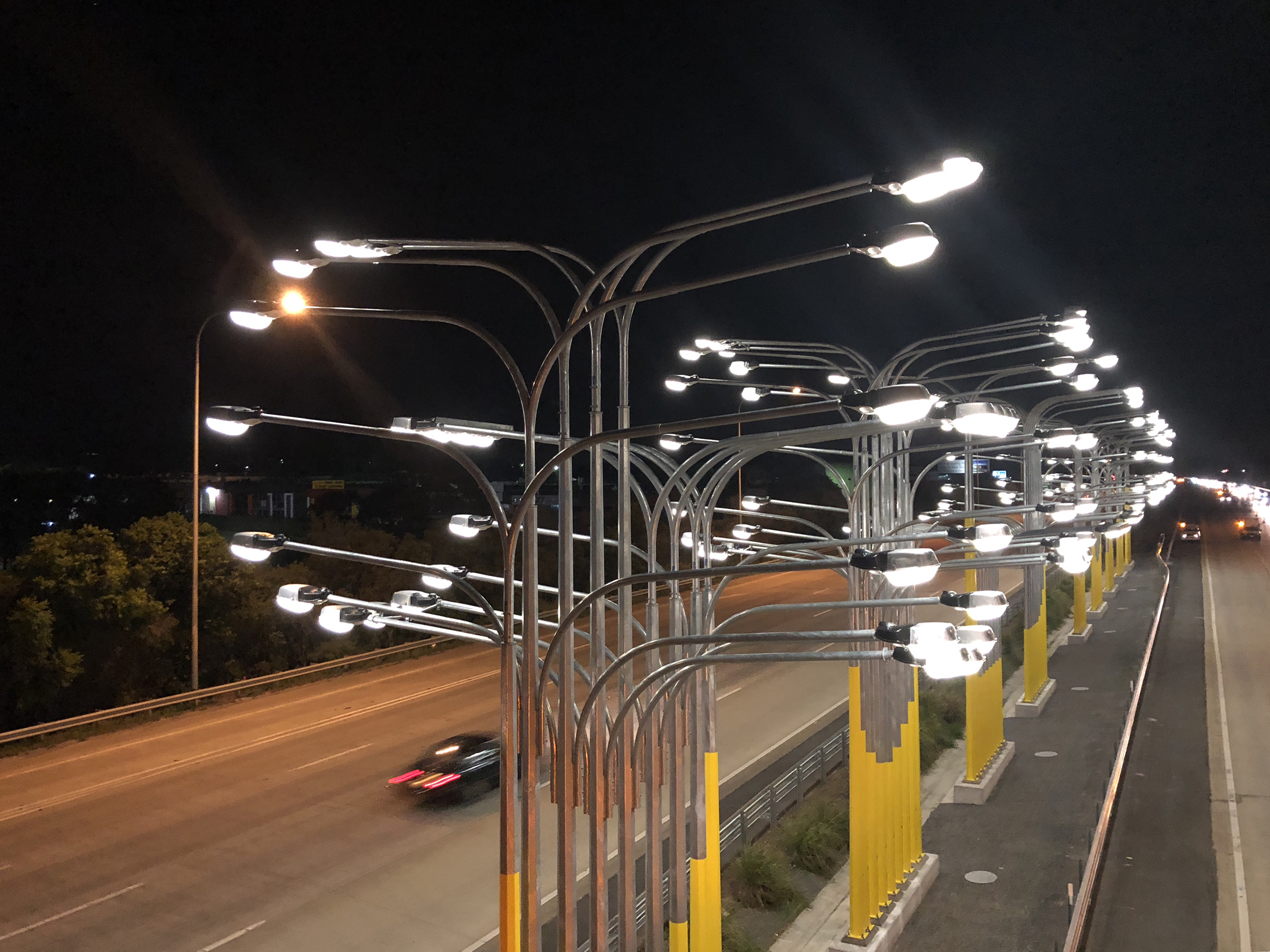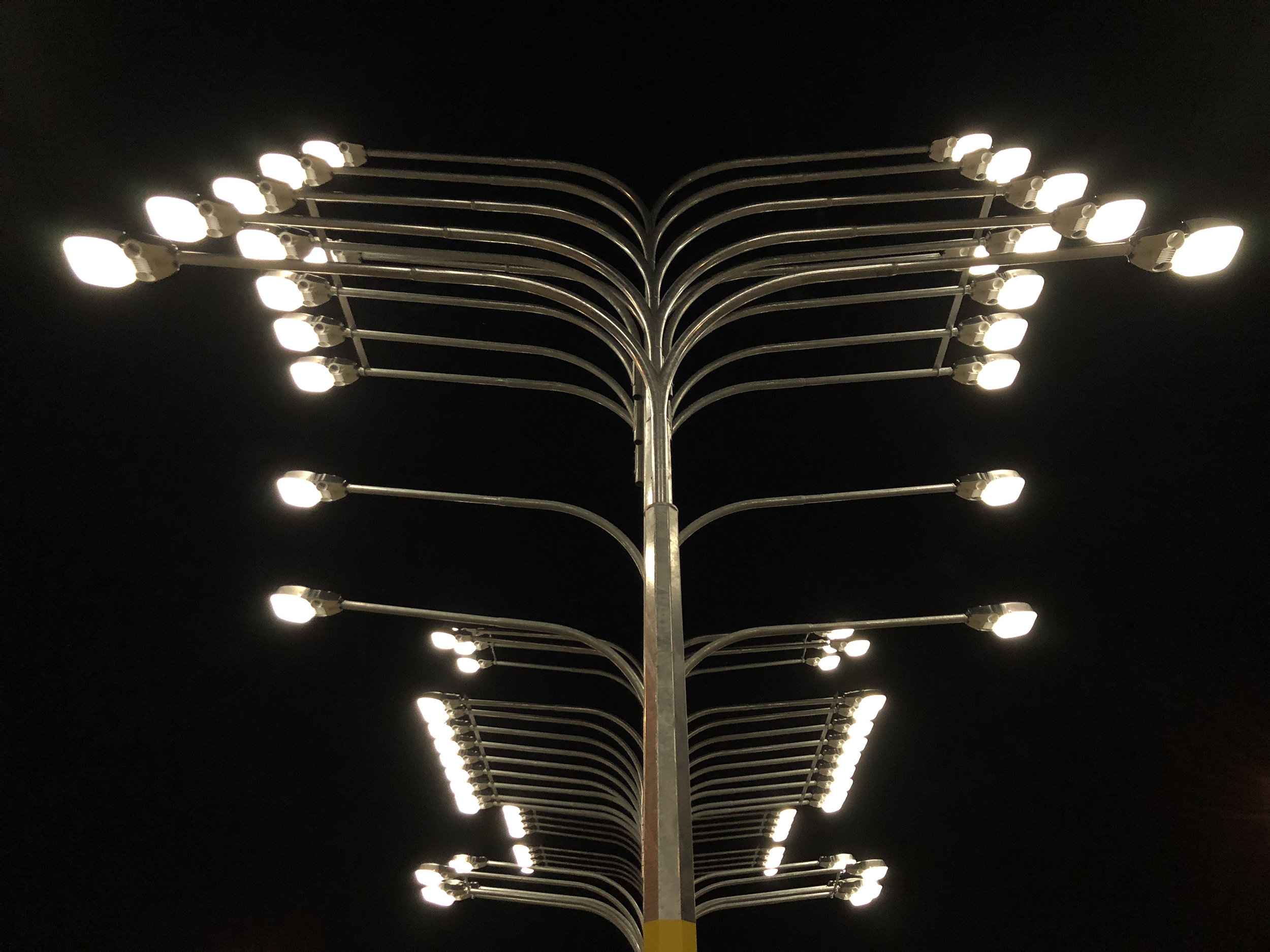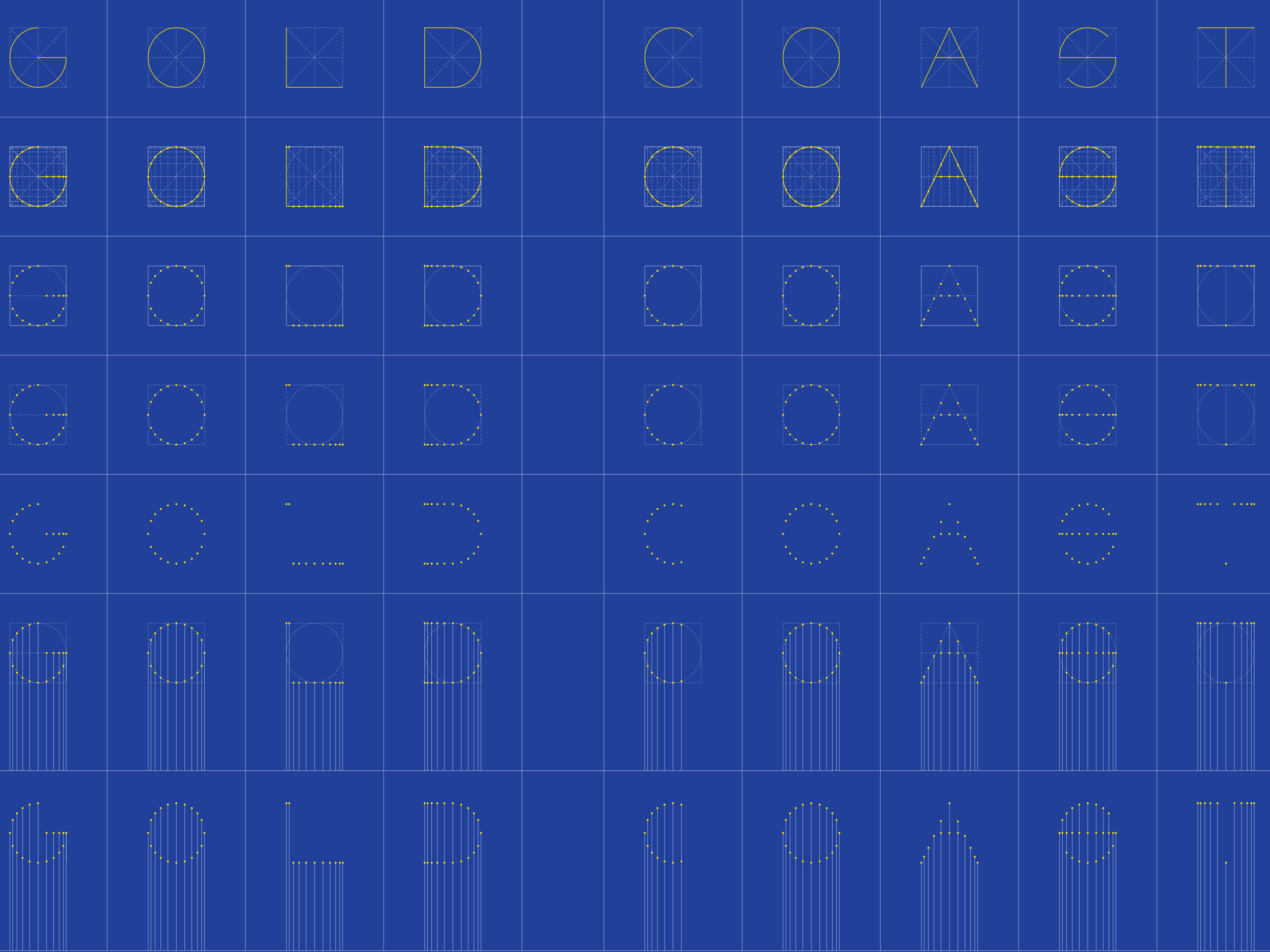 HI-LIGHTS
---
Client: City Of Gold Coast - The Gateways Public Art Commission
Type: Public Artwork
Location: Gold Coast , Australia
Size: 100-meter long (north site) +20m (south site)
Design: 2018
Project Architect: Reza Zia, Project Architect
In collaboration with Office Feuerman (OF),Sydney
Management: UAP Urban Art Projects
Installation: CB Energy
Electrical Consultant: WEBB Australia Group
Structure: Bligh Tanner

HI-LIGHTS is a large public art work commissioned by the city of Gold Coast in Australia as its new gateway. It is centered on the radically adaptive reuse of a seemingly familiar infrastructure. Rethinking the highway light poles as dots that form letters and words, and altering their equally-spaced rhythm into a sudden, dense concentration, HI-LIGHTS puts the Gold Coast's name in lights through two unique works at the city's busiest entry points. Featuring nearly 100 highway light poles, closely spaced at different heights, the lights spell out the city's name in the northern installation along 100 meters of the Pacific Highway, and the city initials at the southern site near the airport.

To the video of this HI-LIGHTS , please visit the LOT-EK page on

Vimeo



---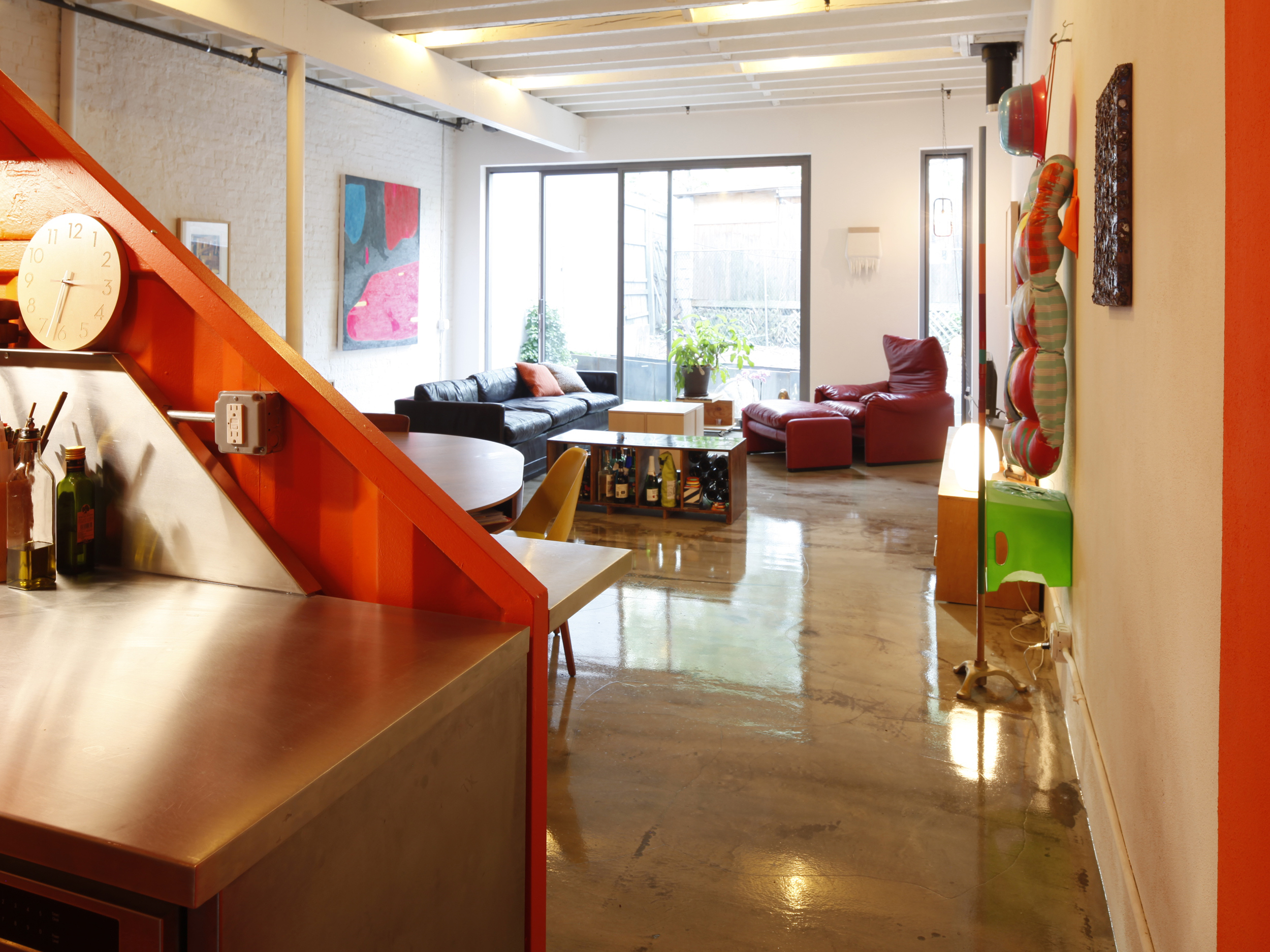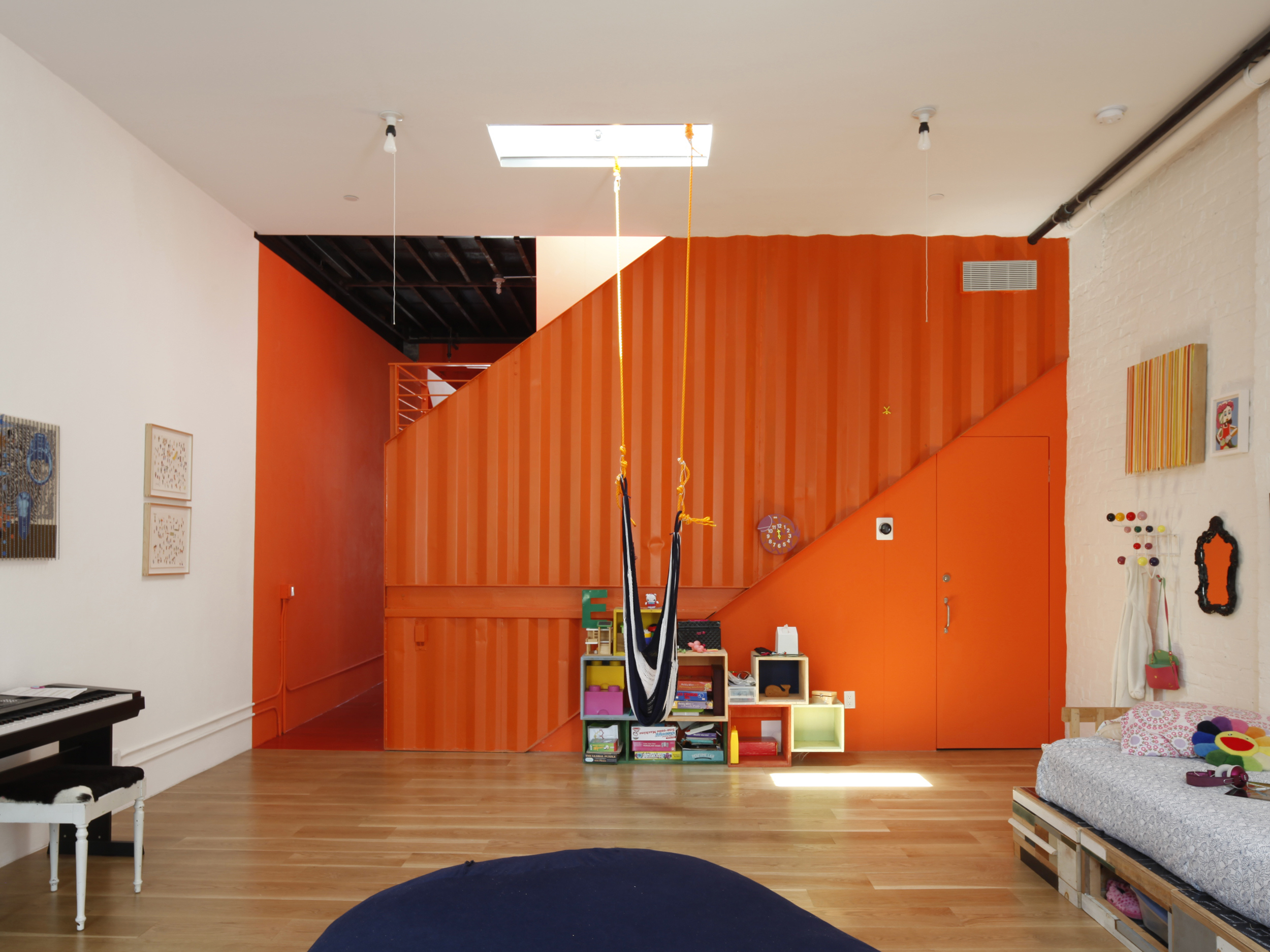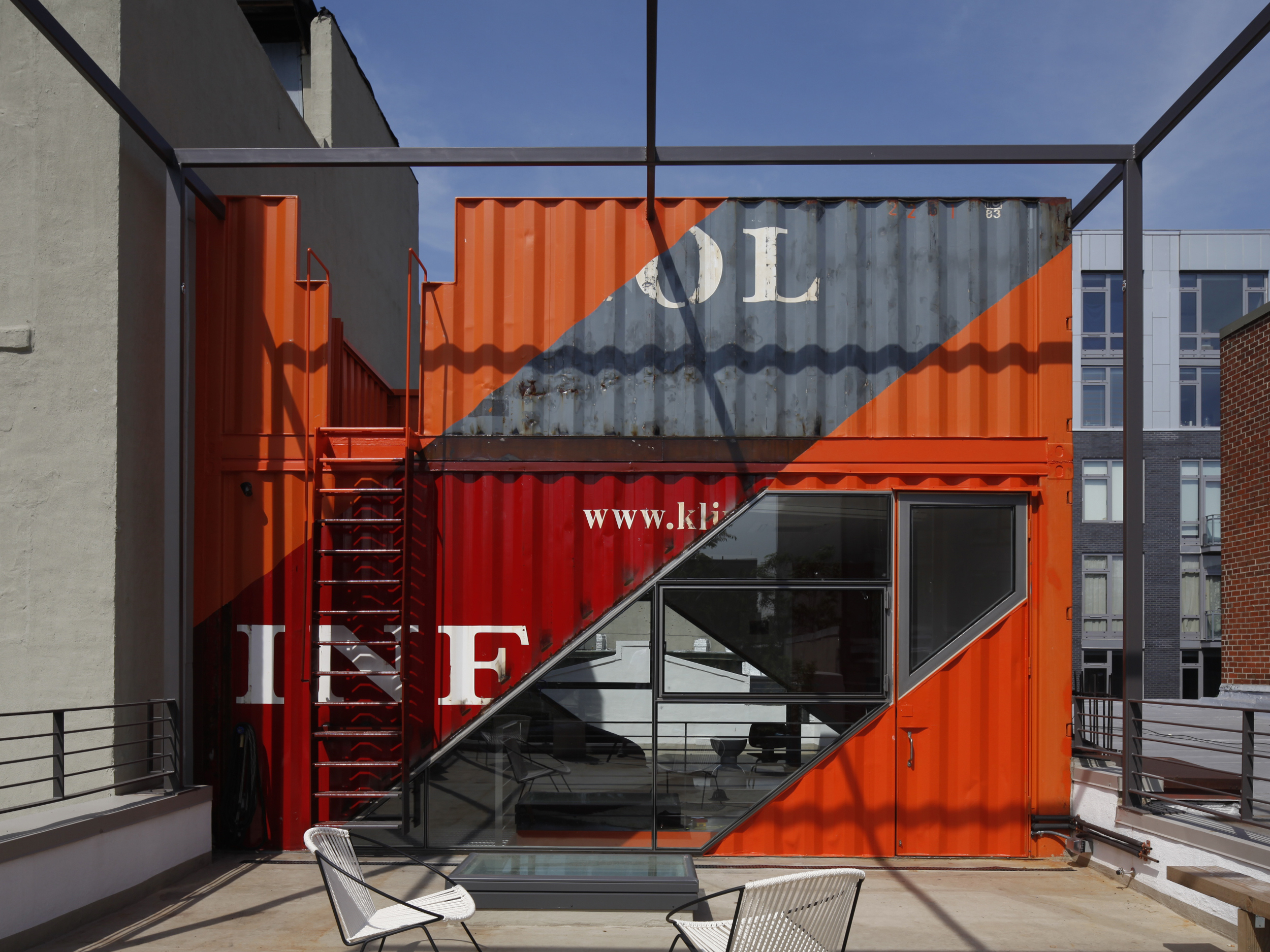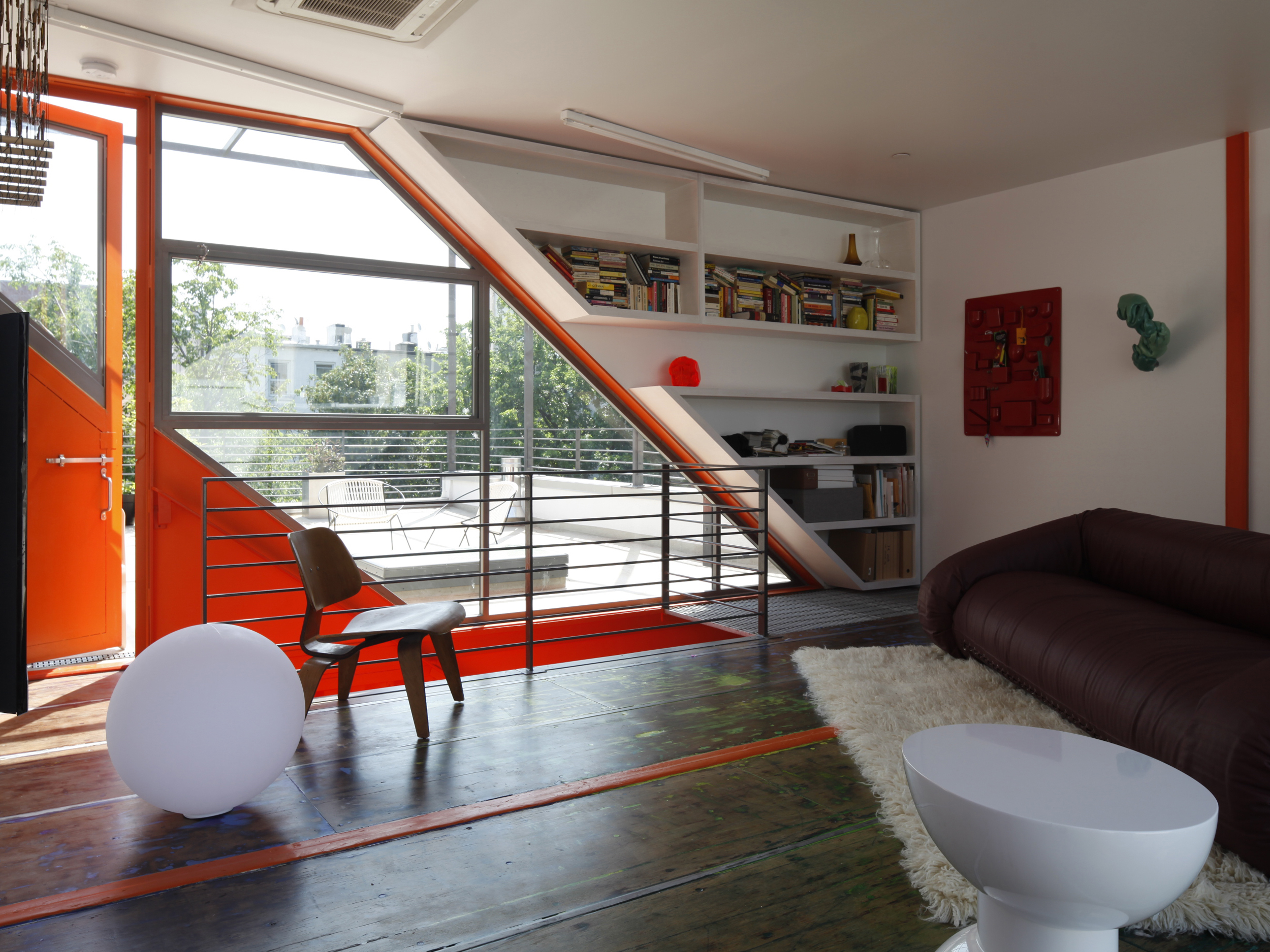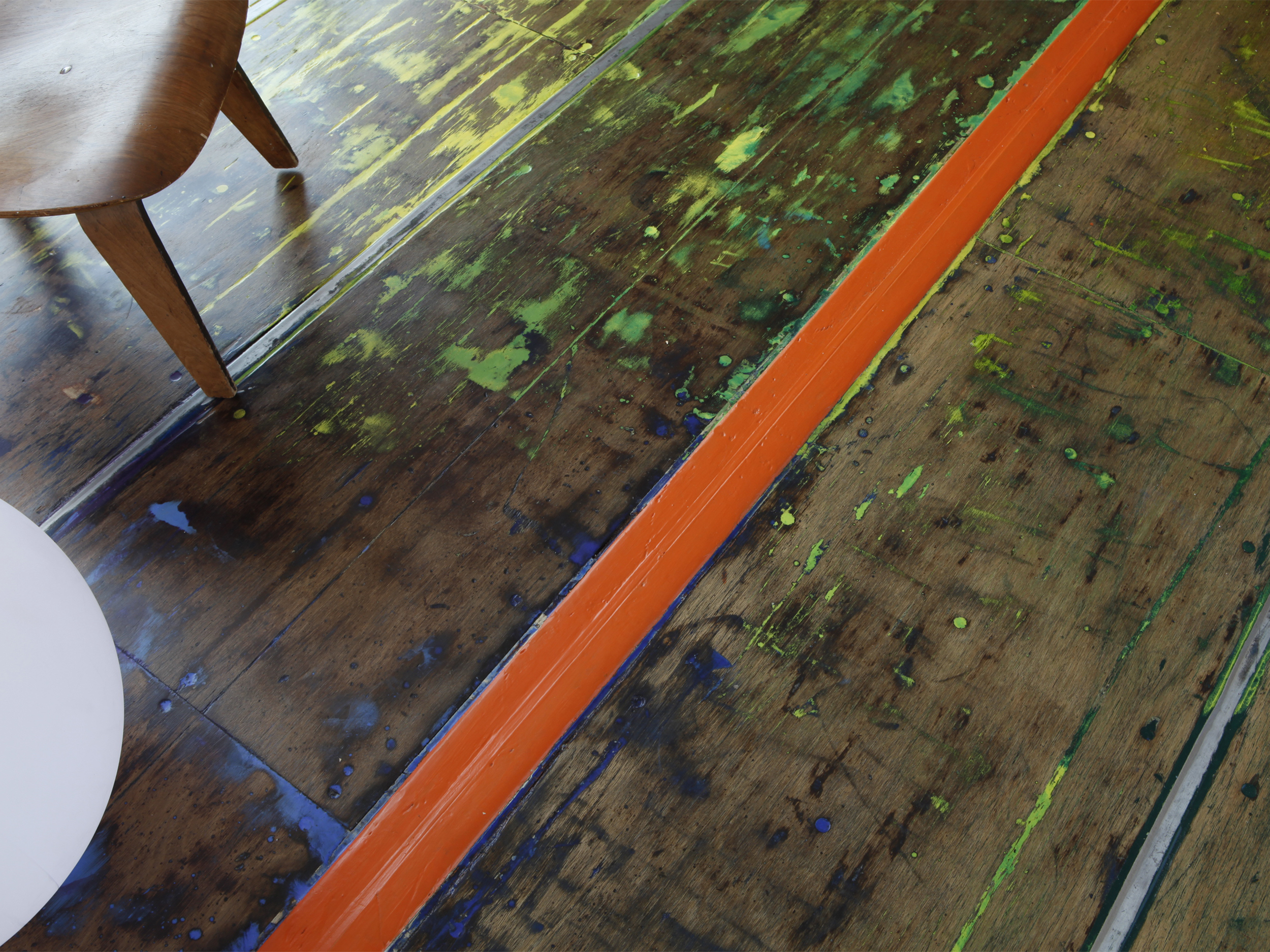 IRVING PLACE CARRIAGE HOUSE
---
Client: Markus Linnenbrink and Cindy Rucker
Type: Single Family Home
Location: Brooklyn
Size: 2,600 SF indoor + 1600 SF outdoor
Design: 2016
Structure: Silman
Mechanical: Gallen Engineering

The Irving Place Carriage House is a single-family residence for an artist, a gallerist, and their daughter. The project involved the remodeling of a 1930s two-level carriage house and the addition of a penthouse above. The space is organized through the insertion of a single vertical volume that—as a jellyfish, resting its bell or umbrella on the roof—crosses the entire house with its tentacles, extending from the roof to the ground. The penthouse, retrofitted from four shipping containers, provides access to the decked and shaded roof. The vertical volume—orange, like the penthouse containers—intersects the carriage house and organizes kitchen, bathrooms, mechanical space, and the stairs, whose incline generates all of the diagonal cuts. This volume also separates the space in two: at the ground level, entrance/mud room in the front and dining/living space on the rear; at the upper level, master bedroom in the front and kid's bedroom at the rear.

---