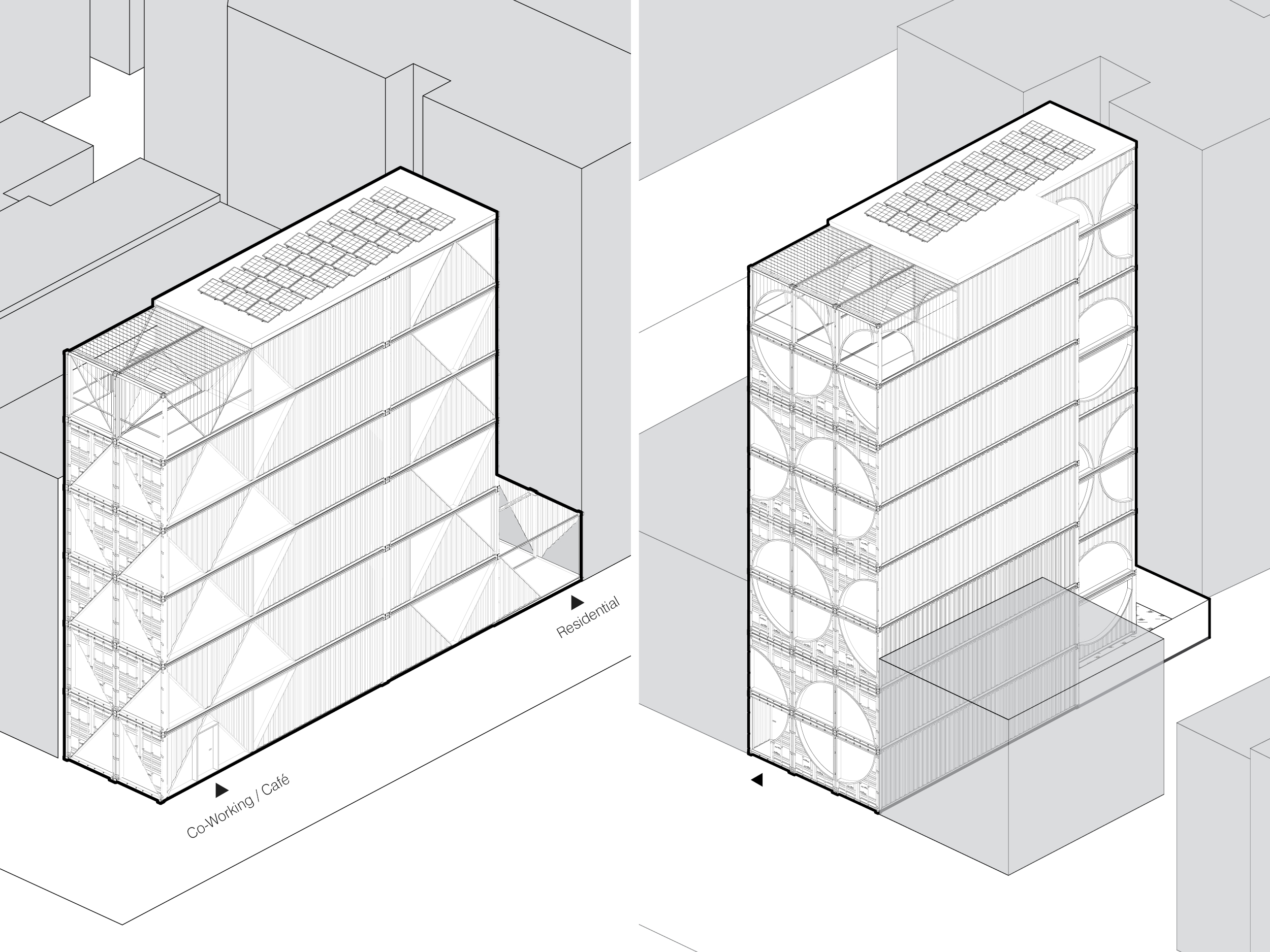 SMALL LOTS _ BIG IDEAS
---
Client: New York City - HPD
Type: Housing
Location: New York City
Size: 6,000 SF
Design: 2019
Real Estate Consultant: Robert Woods
Structure: Robert Silman
Mechanical: FISKAA
Competition

A SMALL BIG CONCEPT
SMALL BIG HOME begins with a love for proximity, density, encounter, exchange, people, all people, and city.
SBH proposes a tight, highly flexible strategy to invent, adapt, and then invent again an array of architecture responses toward a more inclusive and sensible urban density.
SBH thrives on small. And tight, dense, repetitive - we see the complexity and constraint of small lots as a great potential for invention.
SBH takes responsibility for our city, and for today's ideas of city and city dwelling, to retain and promote its sustainable diversity.
SBH houses all of us, at different ages and with different families. Within the same floor plate, a variety of unit types house a variety of inhabitants.
SBH is made out of upcycled shipping containers. Upcycling is the adaptive reuse of existing objects, a deeper use of existing carbon footprints and sunk environmental costs of manufacture, transport and
construction. Denser, smaller-scale and shared urban living is already inherently green. This upcycling approach takes that further.

A SISTEMATIC SUSTAINABILITY
SMALL BIG HOME is based on the upcycling of shipping containers which are stacked 2 or 3 wide to fit the narrow lot - the container (serendipitously) proportioned to the site dimensions.
The container exterior with its articulated walls and fine details connects to the textures and colors of the neighboring historic homes, meanwhile announcing big new ideas for a contemporary lifestyle.
A system of geometric cuts opens up the volume on the two short facades (and/or along the long side facade if on a corner lot). The large glass openings bring plenty of sunlight to the interior while operable sections allow for cross ventilation. Inside, the longitudinal walls of the containers are also opened up by a system of geometric cuts that relate to the facade openings to generate wider spaces in the front and back of each floor-plate. This central, longitudinal spine with its geometric openings, exposes the container texture bringing a stronger architectural definition inside the building, leaving all insulated walls along the perimeter. Solar panels cover the roof, while the green areas provide an active connection with nature.
SBH is a modular system. The shipping container allows for efficiency in modularity and prefabrication. Through our 20-year research in collaboration with container experts, structural, mechanical, and civil engineers, and through our experience completing projects all over the world, we have created a new vision for architecture and, at the same time, a new construction technology based on the upcycling of the shipping container. This technology is complete of all technical details to respond to code, climate and comfort.It allows for partial or complete off-site construction depending on location and logistics, minimizing on-site disruption, reducing construction time, and maximizing adaptability.

A SHARED COMMONS
SMALL BIG HOME combines the desire for privacy and intimacy with the one for physical and social connection. Within each building, independently of its specific unit configurations, ground and top level are communal areas that lead to the communal outdoors. The ground-level garden and the roof terrace, with their adjacent communal spaces, belong to the building community and make that same community possible.
• Starting from the top floor, an enclosed area comprises a shared event/party/screening room, a laundry--traditionally a crossroads, an informal daycare and more in many New York residential buildings--plus access to the a roof deck, covered by a green trellis and overlooking the street below and the skyline beyond.
• Similarly, the ground floor includes an open, shared live/work area in the back that opens up completely onto the back yard/garden in good weather. In the front, a bicycle room and a mail/package foyer are right at the building entrance.
• In lots where the zoning allows for a commercial overlay, a small retail, such as an espresso bar, can be added within the ground floor shared space, opening up and connecting to the neighborhood's community.
• One of the cut-outs from the container walls is repurposed as a large seating platform within the building's front setback to recreate the social space of the New York stoop, a place to see and be seen, to cross paths, and to share in daily life.

A MIX-MATCH APPROACH
SMALL BIG HOME, with its efficient shipping container structure, offers a high degree of flexibility and replicability. Each floor can be organized as a one-bedroom, as half of a two-to-three bedroom duplex, or as a two studio-type unit with a shared kitchen/dining area.
• The Double-Studio Unit 2 private bedroom suites with extra space for living/working and full bathroom, separated and joined by a communal area with kitchen and dining. Retractable walls open up the space at will for more communal living, cross ventilation and more day light. When used throughout the building, this typology allows for the highest density and the creation of the most units as per the main goal of this competition. It also allows for the highest level of communal living.
• The One-Bedroom Unit A classic layout of living room in the front, bedroom with full bath in the back and kitchen in the middle.
• The Duplex Unit: on two levels with floor-through living, dining and kitchen on the first level and 2 private bedrooms each with full bathroom on the second level. This typology is meant mainly to create a two-family home as allowed by the current zoning. Depending on the lot and on the neighborhood needs,
SBH can be configured with one or more types of units allowing for maximum flexibility. These layouts can be mixed and matched into many possible combinations, all with shared amenities and community space, from the as-of-right zoned two duplexes to an all double-studio configuration, which maximizes occupancy especially for younger or shorter-term residents to help approach a citywide 300,000 affordable unit goal. We like the idea of mixing unit sizes and types within each building—integrating different generations, extended families, and communities into the kind of lively density that represents New York life at its best.

A CENTRAL SPINE
SMALL BIG HOME takes advantage of the efficiency of the stacked steel structure to maximize internal dimensions. Floor plans are organized around a central spine, a sort of architectural partition screen', which through playful cutouts in the sculptural shipping container surface strategically calibrate publicity and privacy. A hint of a partition in the main living area of the standard one-bedroom apartment, for example, can shelter a desk and a work area, but still allow open internal spaces and views across the full width of the residence. A hint of a partition in the double occupancy unit can shelter a bed, filtering it from the living area. This helps create different places within each residence, creating moments of foreground and background, niches and nooks—enabling smaller units to "live bigger" than they are. The same system of cutouts along the central partition screen can provide practical fixtures like storage and shelving, enhancing units' entrances and thresholds.

---